Yo-Zuri SuperBraid 150yd
California Proposition 65 Warning
WARNING: These products may contain chemicals known to the State of California to cause cancer, birth defects, or other reproductive harm.
For more information visit: www.P65Warnings.ca.gov
Yo-Zuri is proud to announce the introduction of our new Blue and White Bulk Spools of SuperBraid. Blue and white is great visibility line that is designed for an angler to see their line on top of the water. Great for use in saltwater to the crystal clear lakes in the North, this line is ideal for fishing clear water situations. SuperBraid ranges from 20-40 lb test for 4 strand and 50-80 lb test for 8 strand. Our specially coated braided line gives it a maximum abrasion resistance, extremely low stretch, and makes it super durable giving you the best possible fishing experience. It's available in 3000 yards spools, so be sure to re-spool your reel today!
Super Strong
Super Durable
Maximum Abrasion Resistance
Easy Handling
Extremely Low Stretch
21 Models Available
Model
Style
Color
Length
Test
Stock
Price
Qty
R1256-Y
SB10
Yellow
150 yds
10 lb.

Low Stock:

<5

$13.99

R1257-Y
SB15
Yellow
150 yds
15 lb.

Low Stock:

<5

$13.99

R1258-Y
SB20
Yellow
150 yds
20 lb.

In Stock:

5+

$13.99

R1259-Y
SB30
Yellow
150 yds
30 lb.

In Stock:

5+

$13.99

R1260-Y
SB40
Yellow
150 yds
40 lb.

In Stock:

5+

$13.99

SB10LBBL150
SB10
Blue
150 yd.
10 lb.

Low Stock:

<5

$13.99

SB10LBDG150
SB10
Dark Green
150 yd.
10 lb.
Out of Stock

$13.99

SB15BBL150
SB15
Blue
150 yd.
15 lb.

Low Stock:

<5

$13.99

SB15LBDG150
SB15
Dark Green
150 yd.
15 lb.

Low Stock:

<5

$13.99

SB20BBL150
SB20
Blue
150 yd.
20 lb.

In Stock:

5+

$13.99

SB20LBDG150
SB20
Dark Green
150 yd.
20 lb.

In Stock:

5+

$13.99

SB30BBL150
SB30
Blue
150 yd.
30 lb.

In Stock:

5+

$13.99

SB30LBDG150
SB30
Dark Green
150 yd.
30 lb.
Out of Stock

$13.99

SB40BBL150
SB40
Blue
150 yd.
40 lb.

Low Stock:

<5

$13.99

SB40LBDG150
SB40
Dark Green
150 yd.
40 lb.

In Stock:

5+

$13.99

SB50BBL150
SB50
Blue
150 yd.
50 lb.

In Stock:

5+

$16.99

SB50LBDG150
SB50
Dark Green
150 yd.
50 lb.

In Stock:

5+

$16.99

SB65BBL150
SB65
Blue
150 yd.
65 lb.

In Stock:

5+

$17.99

SB65LBDG150
SB65
Dark Green
150 yd.
65 lb.

In Stock:

5+

$17.99

SB80BBL150
SB80
Blue
150 yd.
80 lb.

In Stock:

5+

$19.99

SB80LBDG150
SB80
Dark Green
150 yd.
80 lb.

In Stock:

5+

$19.99
Other Yo-Zuri Line Available
Other Yo-Zuri obs-Terminal Tackle Available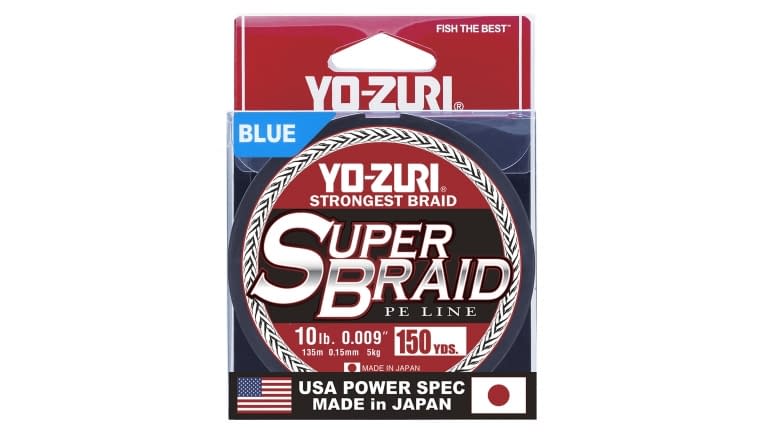 Scroll Image
Error
X items added to your cart