Blue Fox Classic Vibrax Spinner
California Proposition 65 Warning
WARNING: These products may contain chemicals known to the State of California to cause cancer, birth defects, or other reproductive harm.
For more information visit: www.P65Warnings.ca.gov
Runs 2 feet to 6 feet. The patented two-part body emits low-frequency sound vibrations that attract fish and trigger strikes while virtually eliminating line twist.

The Classic Vibrax® gets a tasty candyback! Colored bell is accented with metallic flecks. Blade is tipped in matching color, while blade back is finished with transparent, fluorescent coordinating color. Flaw-free silver plating, fine tolerances and super-sharp hooks are long-standing features of this low frequency emitting patented two-part body spinner.
Patented 2 part body made of machined brass
Silver or copper plated
Painted, printed and UV Bright finishes
Body emits sonic vibration when free turning gear rubs against the Vibrax® bell
Brass stamped blades
Stainless steel shaft
VMC® Hook is extremely sharp for quick penetration and perfectly tempered for strength
Sizes 3-6 include proper size siwash
112 Models Available
Model
Style
Color
Weight
Stock
Price
Qty
60-00-100IC
100
Silver / Silver
7/64 oz

In Stock:

5+

$5.39

60-00-105IC
105
Silver / Chrome Blue
7/64 oz

In Stock:

5+

$5.39

60-00-115IC
115
Silver / Hot Pink
7/64 oz

In Stock:

5+

$5.39

60-00-117IC
117
Silver / Purple
7/64 oz

In Stock:

5+

$5.39

60-00-200IC
200
Gold / Gold
7/64 oz
Out of Stock

$5.39

60-00-213IC
213
Gold / Fluorescent Red
7/64 oz
Out of Stock

$5.39

60-00-506IC
506
Firetiger / Firetiger
7/64 oz

In Stock:

5+

$5.39

60-00-510IC
510
Red Tiger
7/64 oz

In Stock:

5+

$5.39

60-00-616IC
616
Rainbow Trout
7/64 oz
Out of Stock

$5.39

60-00-800IC
800
Silver Shiner
7/64 oz

In Stock:

5+

$5.39

60-00-801IC
801
Gold Shiner
7/64 oz

In Stock:

5+

$5.39

60-10-100IC
100
Silver / Silver
1/8 oz
Out of Stock

$5.39

60-10-105IC
105
Silver / Chrome Blue
1/8 oz
Out of Stock

$5.39

60-10-115IC
115
Silver / Hot Pink
1/8 oz

In Stock:

5+

$5.39

60-10-117IC
117
Silver / Purple
1/8 oz
Out of Stock

$5.39

60-10-200IC
200
Gold / Gold
1/8 oz
Out of Stock

$5.39

60-10-213IC
213
Gold / Fluorescent Red
1/8 oz

In Stock:

5+

$5.39

60-10-314IC
314
Pink Scale / Chartreuse Tip UV
1/8 oz
Out of Stock

$5.99

60-10-315IC
315
Green Scale / Chartreuse Tip UV
1/8 oz

In Stock:

5+

$5.99

60-10-319IC
319
Cerise Scale Blue Tip UV
1/8 oz

In Stock:

5+

$6.49

60-10-506IC
506
Firetiger / Firetiger
1/8 oz
Out of Stock

$5.39

60-10-510IC
510
Red Tiger
1/8 oz

In Stock:

5+

$5.39

60-10-616IC
616
Rainbow Trout
1/8 oz
Out of Stock

$5.39

60-10-800IC
800
Silver Shiner
1/8 oz
Out of Stock

$5.39

60-10-801IC
801
Gold Shiner
1/8 oz
Out of Stock

$5.39

60-20-100IC
100
Silver / Silver
3/16 oz

In Stock:

5+

$5.39

60-20-105IC
105
Silver / Chrome Blue
3/16 oz
Out of Stock

$5.39

60-20-115IC
115
Silver / Hot Pink
3/16 oz

In Stock:

5+

$5.39

60-20-117IC
117
Silver / Purple
3/16 oz

In Stock:

5+

$5.39

60-20-200IC
200
Gold / Gold
3/16 oz
Out of Stock

$5.39

60-20-213IC
213
Gold / Fluorescent Red
3/16 oz

In Stock:

5+

$5.39

60-20-314IC
314
Pink Scale / Chartreuse Tip UV
3/16 oz

In Stock:

5+

$6.29

60-20-315IC
315
Green Scale / Chartreuse Tip UV
3/16 oz

In Stock:

5+

$6.29

60-20-319IC
319
Cerise Scale Blue Tip UV
3/16 oz

In Stock:

5+

$5.99

60-20-506IC
506
Firetiger / Firetiger
3/16 oz
Out of Stock

$5.39

60-20-510IC
510
Red Tiger
3/16 oz

In Stock:

5+

$5.39

60-20-616IC
616
Rainbow Trout
3/16 oz

In Stock:

5+

$5.39

60-20-800IC
800
Silver Shiner
3/16 oz
Out of Stock

$5.39

60-20-801IC
801
Gold Shiner
3/16 oz

In Stock:

5+

$5.39

60-30-100IC
100
Silver / Silver
1/4 oz
Out of Stock

$6.49

60-30-105IC
105
Silver / Chrome Blue
1/4 oz
Out of Stock

$6.49

60-30-115IC
115
Silver / Hot Pink
1/4 oz
Out of Stock

$6.49

60-30-117IC
117
Silver / Purple
1/4 oz
Out of Stock

$6.49

60-30-200IC
200
Gold / Gold
1/4 oz
Out of Stock

$6.49

60-30-213IC
213
Gold / Fluorescent Red
1/4 oz

Low Stock:

<5

$6.49

60-30-506IC
506
Firetiger / Firetiger
1/4 oz
Out of Stock

$6.49

60-30-510IC
510
Red Tiger
1/4 oz

Low Stock:

<5

$6.49

60-30-616IC
616
Rainbow Trout
1/4 oz

Low Stock:

<5

$6.49

60-30-800IC
800
Silver Shiner
1/4 oz
Out of Stock

$6.49

60-30-801IC
801
Gold Shiner
1/4 oz
Out of Stock

$6.49

60-40-100IC
100
Silver / Silver
3/8 oz

Low Stock:

<5

$6.99

60-40-105IC
105
Silver / Chrome Blue
3/8 oz
Out of Stock

$6.99

60-40-112IC
112
Silver / Fluorescent Yellow
3/8 oz
Out of Stock

$6.99

60-40-113IC
113
Silver / Fluorescent Red
3/8 oz

In Stock:

5+

$6.99

60-40-115IC
115
Silver / Hot Pink
3/8 oz
Out of Stock

$6.99

60-40-117IC
117
Silver / Purple
3/8 oz
Out of Stock

$6.99

60-40-200IC
200
Gold / Gold
3/8 oz
Out of Stock

$6.99

60-40-300IC
300
Copper / Copper
3/8 oz
Out of Stock

$6.99

60-40-451IC
451
Bleeding Silver / Chrome Blue
3/8 oz
Out of Stock

$6.99

60-40-506IC
506
Firetiger / Firetiger
3/8 oz
Out of Stock

$6.99

60-50-100IC
100
Silver / Silver
7/16 oz
Out of Stock

$7.39

60-50-105IC
105
Silver / Chrome Blue
7/16 oz

In Stock:

5+

$7.39

60-50-112IC
112
Silver / Fluorescent Yellow
7/16 oz
Out of Stock

$7.39

60-50-113IC
113
Silver / Fluorescent Red
7/16 oz

Low Stock:

<5

$7.39

60-50-114IC
114
Silver / Fluorescent Green
7/16 oz
Out of Stock

$7.39

60-50-115IC
115
Silver / Hot Pink
7/16 oz
Out of Stock

$7.39

60-50-117IC
117
Silver / Purple
7/16 oz

In Stock:

5+

$7.39

60-50-200IC
200
Gold / Gold
7/16 oz

Low Stock:

<5

$7.39

60-50-213IC
213
Gold / Fluorescent Red
7/16 oz
Out of Stock

$7.39

60-50-300IC
300
Copper / Copper
7/16 oz

In Stock:

5+

$7.39

60-50-327IC
327
Fluorescent Yellow / Fluorescent Green / Silver UV
7/16 oz
Out of Stock

$7.39

60-50-329IC
329
Blue / Fluorescent Yellow / Silver UV
7/16 oz

In Stock:

5+

$7.39

60-50-450IC
450
Bleeding Silver
7/16 oz
Out of Stock

$7.39

60-50-451IC
451
Bleeding Silver / Chrome Blue
7/16 oz

Low Stock:

<5

$7.39

60-50-506IC
506
Firetiger / Firetiger
7/16 oz
Out of Stock

$7.39

60-50-510IC
510
Red Tiger
7/16 oz
Out of Stock

$7.39

60-50-720IC
720
Hot Clown
7/16 oz

In Stock:

5+

$7.39

60-50-800IC
800
Silver Shiner
7/16 oz

In Stock:

5+

$7.39

60-50-801IC
801
Gold Shiner
7/16 oz

In Stock:

5+

$7.39

60-60-71C
71C
Chartreuse Tipped / Silver Flake
5/8 oz
Out of Stock

$7.99

60-60-71R
71R
Red Tipped / Silver Flake
5/8 oz
Out of Stock

$7.99

60-60-100IC
100
Silver / Silver
5/8 oz

In Stock:

5+

$7.99

60-60-105IC
105
Silver / Chrome Blue
5/8 oz

In Stock:

5+

$7.99

60-60-112IC
112
Silver / Fluorescent Yellow
5/8 oz

In Stock:

5+

$7.99

60-60-113IC
113
Silver / Fluorescent Red
5/8 oz

In Stock:

5+

$7.99

60-60-114IC
114
Silver / Fluorescent Green
5/8 oz

In Stock:

5+

$7.99

60-60-115
115
Silver / Hot Pink
5/8 oz

In Stock:

5+

$7.99

60-60-117IC
117
Silver / Purple
5/8 oz
Out of Stock

$7.99

60-60-200IC
200
Gold / Gold
5/8 oz
Out of Stock

$7.99

60-60-213
213
Gold / Fluorescent Red
5/8 oz

In Stock:

5+

$7.99

60-60-270IC
270
Chartreuse Green Candyback
5/8 oz

In Stock:

5+

$7.99

60-60-271IC
271
Orange Chartreuse Candyback
5/8 oz

In Stock:

5+

$7.99

60-60-272IC
272
Pink Chartreuse Candyback
5/8 oz

In Stock:

5+

$7.99

60-60-300IC
300
Copper / Copper
5/8 oz
Out of Stock

$7.99

60-60-314IC
314
Pink Scale / Chartreuse Tip UV
5/8 oz
Out of Stock

$7.99

60-60-315IC
315
Green Scale / Chartreuse Tip UV
5/8 oz
Out of Stock

$7.99

60-60-316IC
316
Blue Scale Chartreuse Tip UV
5/8 oz

In Stock:

5+

$7.99

60-60-317IC
317
Purple Scale Pink Tip UV
5/8 oz
Out of Stock

$7.99

60-60-318IC
318
Blue Scale Pink Tip UV
5/8 oz

In Stock:

5+

$7.99

60-60-319IC
319
Cerise Scale Blue Tip UV
5/8 oz

In Stock:

5+

$7.99

60-60-325IC
325
Fluorescent Green / Fluorescent Yellow / Silver UV
5/8 oz

In Stock:

5+

$7.99

60-60-327IC
327
Fluorescent Yellow / Fluorescent Green / Silver UV
5/8 oz
Out of Stock

$7.99

60-60-328IC
328
Hot Pink / Fluorescent Yellow / Silver UV
5/8 oz
Out of Stock

$7.99

60-60-329IC
329
Blue / Fluorescent Yellow / Silver UV
5/8 oz

In Stock:

5+

$7.99

60-60-400IC
400
Black / Black
5/8 oz

In Stock:

5+

$7.99

60-60-450IC
450
Bleeding Silver
5/8 oz

In Stock:

5+

$7.99

60-60-451IC
451
Bleeding Silver / Chrome Blue
5/8 oz
Out of Stock

$7.99

60-60-506IC
506
Firetiger / Firetiger
5/8 oz

In Stock:

5+

$7.99

60-60-510IC
510
Red Tiger
5/8 oz

In Stock:

5+

$7.99

60-60-711IC
711
Hot Pepper
5/8 oz
Out of Stock

$7.99

60-60-800IC
800
Silver Shiner
5/8 oz
Out of Stock

$7.99

60-60-801IC
801
Gold Shiner
5/8 oz

Low Stock:

<5

$7.99
Other Blue Fox Baits Available

Blue Fox Pixee Spoon
$5.59 - $6.99

Blue Fox Rattlin' Pixee Spoon
$5.99 - $6.99
Other Blue Fox obs-Freshwater Available

Blue Fox Pixee Spoon
$5.59 - $6.99

Blue Fox Rattlin' Pixee Spoon
$5.99 - $6.99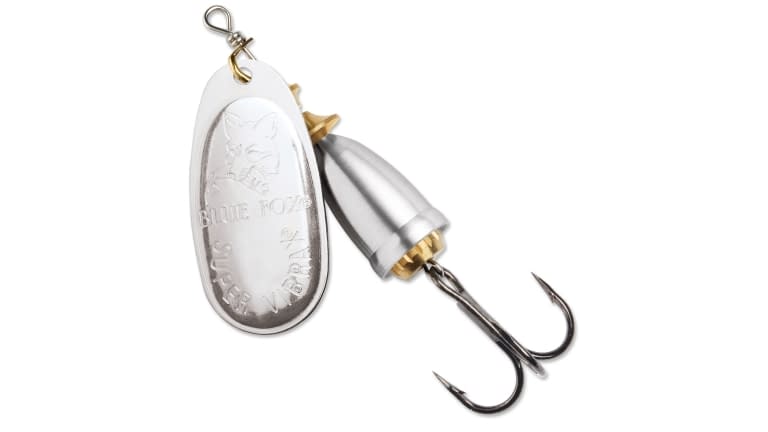 Scroll Image
Error
X items added to your cart